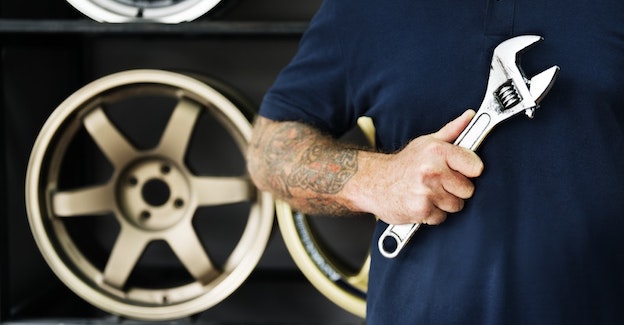 The job of your Ford vehicle's transmission is to transfer the right amount of power to the axles and wheels of your ride so that you can drive at any given speed. In the event your transmission fails, you may experience a reduction in fuel economy or might not be able to drive at all! Fortunately, when this happens you can always turn to the Ford-certified technicians at our Ford service center in Hemet for help!
Why Should You Service Your Ford In Hemet?
No matter your maintenance or repair needs, you can count on the team at Gosch Ford Hemet to get the job done right the first time! In addition to providing quality care and service, we have a comfortable customer waiting area furnished with a lounge and TV and provide complimentary WiFi and free refreshments to ensure your wait is a pleasant one. We also offer competitively priced maintenance services completed with genuine OEM replacement parts along with an array of Ford service specials for our drivers in Hemet to enjoy.
What Are the Signs of a Bad Transmission?
It's important to keep your Ford vehicle's transmission well-maintained but how do you know when it's time for service? Stay vigilant for the following signs of a failing transmission:
Slipping or Delayed Engagement: A separating clutch, delay, or lack of response from your vehicle is usually a sign of transmission issues. Your Ford should always deliver flawless performance but if you find your ride won't move as quickly, this could mean a more serious transmission issue.
Rough Shifting: Another big indicator of transmission issues is trouble changing gears. You may hear concerning noises when the car shifts gears and might also have a problem getting your vehicle up to speed.
Fluid Leaks: Just like motor oil lubricates the engine, transmission fluid keeps all of the vital transmission components moving smoothly. This fluid should never leak but if you notice spots on your driveway or garage floor, take your vehicle to a trained mechanic for help.
If you notice any of the symptoms of a failing transmission listed above, bring your vehicle to Gosch Ford Hemet. Our expert technicians will inspect the problem and take care of any issues efficiently.
Happy Ford Service Customer Testimonials
"Paul Rodriguez was very good at his job - he took the time out of his day to fully explain what was wrong and what should be done. He is very good at his job. I am very happy with my service. I'll be gladly telling everyone I know about Gosch. Thank you, Gosch Ford Hemet for having awesome employees" - Sandra (Google Reviews)
"I went to Gosch Ford to get my fusion serviced and the staff was amazing! I was greeted by a young lady named Casandra who was very helpful and nice. She took me over to my advisor Phil who took care of everything, he made things quick and easy and got my vehicle in and out fast. Keep up the good work Gosch Ford Hemet." - Joshua S. (Google Reviews)
Owner Resources
Take a look at the resources below if you're confused about what type of service your Ford vehicle may need or would like to schedule a service appointment.
If you're having issues with your vehicle's transmission, then visit us at Gosch Ford Hemet! Conveniently located in Hemet, there's no better place to go for Ford transmission service and repairs.