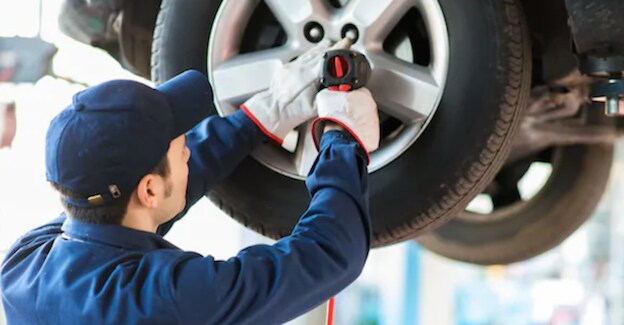 Tires play a major role in the performance and safety of your vehicle. As the only part of your ride to make direct contact with the road, it's crucial to take proper care of them to both extend their lifespan and deliver a smooth driving experience. Luckily, our Menifee area Ford service center is staffed with a team of Ford-certified technicians who are more than equipped to keep your vehicle in shape and safe on the roads.
Why Should Menifee Area Drivers Visit Gosch Ford Hemet for Tire Service?
When you visit the service department at Gosch Ford Hemet, you can always count on exceptional service and quality care from our certified technicians. All of our maintenance services are competitively priced to suit both your budget as well as ensure you can keep your vehicle in tip-top shape for less than expected. Our state-of-the-art service center also features a customer waiting area complete with a comfortable lounge, TV, complimentary WiFi, and free refreshments for your convenience.
Signs You Need New Tires
Tires wear over time so it's important to regularly inspect and replace them for you and your passengers' safety behind the wheel, but when should you buy new tires? Be on the lookout for the following signs:
Worn Down Tread: The tread on your tires is designed to grip the road and supply traction. When your tire tread is gone, falls below 2/32 of an inch, or shows other signs of wear, it can negatively affect your vehicle's handling in adverse weather conditions like rain or sleet.
Cracks, Bulges, and Blisters: As the surface of your tires begin to weaken, the damage can manifest on the sidewall and outer surfaces as cracks, bulges, or blisters. These weak spots can develop into leaks and even cause sudden blowouts so take care to replace your tires right away!
Excessive Vibration: While some vibration is normal, heavy shaking that becomes progressively worse as you accelerate is not and could signal a problem inside the tire itself. Be sure to inspect your tires as soon as possible if you're experiencing too much vibration.
Besides being a safety concern, failing tires can also lead to premature wear and tear on your vehicle's other components. If you spot any of these signs, please don't hesitate to schedule a service appointment at our Ford dealer serving Menifee. Our Ford service center can examine your tires and help you spot any warning signs or symptoms you may have missed!
Satisfied Ford Service Customer Reviews
"Sales Department for the purchase of my F150 Sport was great. The Service Department is always terrific, my service representative Daniel is fabulous, he always remembers me even when I stop in even without an appointment. He always follows up and calls me back. You don't get that service everywhere!" - Linda M. (Google Reviews)
"Great customer service!! Paul Rodriquez was super helpful. Arranged a ride for me while I waited and went above and beyond to get my car washed for me when the car wash was broken. Super friendly." - Terri G. (Google Reviews)
Owner Resources
Check out these resources from Gosch Ford Hemet if you have any questions about your Ford vehicle and the service it may need.
If you're due for new tires or notice any issues with your current set of wheels, feel free to contact us to schedule a service appointment and experience the peace of mind that comes from having factory-trained Ford mechanics fit and install your tires.