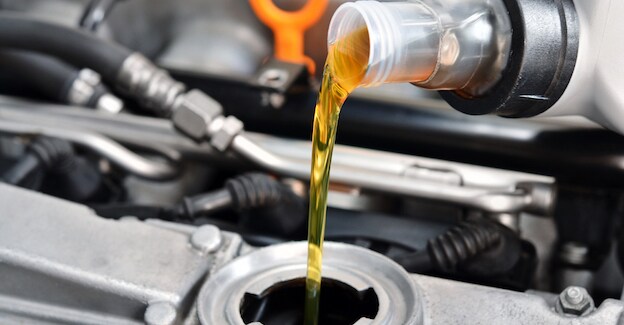 While routine maintenance procedures like oil changes may not be at the top of your to-do list, regularly changing your oil is the best thing you can do to optimize performance and keep your vehicle running smoothly for many more years to come. When it's time for your car's next oil change around Beaumont, there's no better place to go than our Ford service center at Gosch Ford Hemet!
Why Visit Our Beaumont Area Service Center?
Wondering why service with Gosch Ford Hemet? Our Beaumont area Ford dealer understands the importance of an oil change and is committed to providing all of our guests with quality care and competitively priced maintenance services. No matter your needs, the expert Ford-certified technicians at our service center have the proper tools and knowledge needed to diagnose and repair your ride in a timely manner. We also encourage our guests to relax in our comfortable customer waiting area while we work on their ride, which features complimentary WiFi, a lounge and TV, and free refreshments.
How Often Do You Need An Oil Change?
Routine oil changes are crucial to your vehicle's well-being, and by keeping up with them you can prolong your ride's lifespan, protect your car's fuel efficiency, as well as combat harmful friction and contaminants from entering the interior components of your engine.
How often you change your oil depends on several factors such as the type of oil, your driving habits, the type of terrain you drive on, as well as the vehicle itself that you drive. Most experts recommend changing your oil every 5,000 miles or six months, whichever comes first, while newer vehicles typically require an oil change every 7,500 miles or six months. It's important to note that each vehicle is different and has its own unique maintenance schedule so be sure to consult your owner's manual for more information on your specific ride.
Satisfied Ford Service Customer Reviews
"I have nothing but positive things to say about this Ford's service center. Scheduling an appointment was very easy and they were able to see me within a couple of days."
I have taken my car here twice and all of the staff members were friendly and helpful. I worked primarily with Paul who was very attentive throughout the entire process. He explained all of my options and answered any question I had. Highly recommend!" - Jenny R. (Google Reviews)
"I and my family all take our Ford's here any time anything has to be done. Alex has given the best customer service he always keeps me up to date on the status of my vehicle and is always answering any questions I have. I highly recommend everyone take their vehicle here for service." -Daniel M. (Google Reviews)
Owner Resources
If you can't remember the last time you had an oil change then it's time to visit us at Gosch Ford Hemet!
Reach out to our team today for any further questions about our oil change services or to schedule a service appointment. We're looking forward to helping you get back on the road!