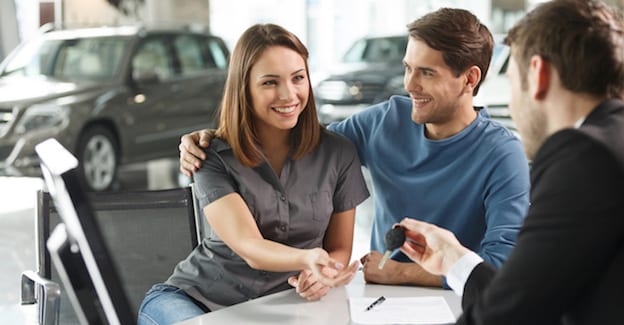 Leasing is a great, affordable way to get behind the wheel of the Ford of your dreams, but as your lease comes to a close, you'll have several different options to consider. Whether you're in the market for a new Ford model or simply want a brand-new edition of what you're currently driving, our Ford finance center in Hemet is here to help! As you head into the final six months of your lease, we encourage you to explore your three available options below:
Option 1 | Buy or Lease a New Ford
Have you had your eye on a new Ford model? If so, it's easier than ever to trade-in your current ride and lease or purchase a new one. Schedule a vehicle inspection at Gosch Ford Hemet six months before your final lease payment to avoid costly or surprising Excessive Wear and Use fees on your lease, and take a look at our wide selection of new Ford models for sale on our lot in Hemet. Feel free to chat with our knowledgeable, attentive sales team and schedule a test drive to ensure you find the right vehicle for your needs and lifestyle.
Option 2 | Purchase Your Lease Ford
There's no need to part from your current Ford vehicle if you already love what you're driving! The financial experts at Gosch Ford Hemet can help you determine your vehicle's final payoff amount and purchase your leased Ford - just make sure to fulfill your lease obligations by satisfying any remaining financial obligations, facilitate lease-end requirements, and complete your vehicle purchase transaction.
Option 3 | Return Your Lease Vehicle
There's never any need to worry if you decide to return your leased Ford to Gosch Ford Hemet. Be sure to examine your vehicle for possible excessive wear and use and make any necessary repairs or payments on your ride. Don't forget to contact our Hemet Ford dealer as well for any assistance with paperwork and to schedule an appointment to return your ride.
What's Require to Return Your Lease to Gosch Ford Hemet?
To help prepare your vehicle for return, gather any items that came with your car including:
All keys and key fobs
Owner manuals
Navigation media and accessories (e.g. DVD, memory card)
Cargo covers and luggage crossbars
Floor mats
Wheel rims on the vehicle at lease origination
Items unique to hybrid/electric vehicles (e.g. charge cords)
No matter which route you decide to take, you can ensure the lease return process is as simple and stress-free as possible by following the steps above. Feel free to stop by for a visit or contact us at Gosch Ford Hemet for more information about your options or for any additional questions. We look forward to helping you into the vehicle you deserve!