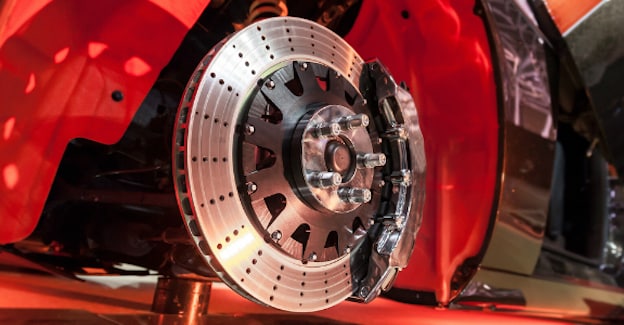 As an integral routine maintenance service, repairing or replacing your brakes creates a smooth, more reliable driving experience. Here at Gosch Ford Hemet, serving the area of Menifee, our service center provides you with a brake repair or replacement. 
The roads are unpredictable and your brakes are essential to your everyday commute. Not only should you be aware of any warning signs that indicate your Ford may need new brakes, but also continually keep track of servicing your brakes from time to time to prevent major breakdowns.
Warning Signs Your Ford Needs New Brakes 
Fortunately, your Ford car, truck, or SUV usually gives you a clear signal that your brakes are due for repair or replacement. Sometimes they're harmless noises that don't require repairs or have simple fixes, while other times, they can be a severe issue. Here are some of the warning signs that indicate a need for new brakes:
Brake Warning Light Illuminated
Squealing, Squeaking, or Grinding Noises 
Wobbling, Vibration, or Scraping When Braking
Leaking Fluid
Spongy or Soft Pedal Brakes
Pulling of Your Car to One Side
Longer Time to Stop or Slow Down
How Often Does My Ford Need Brake Service?
When it comes to servicing your Ford's brakes we recommend scheduling an inspection for your brakes every 10,000-15,000 miles, depending on your vehicle's model. Brake pads need to be replaced after about 50,000 - 70, 000 miles. Some factors that affect the timeline of replacing, repairing, or servicing your brakes include: 
Driving Habits
Environment 
Brake Pad Harness
Materials 
Brake services with Gosch Ford Hemet's Service Center entail services for brake pads, calipers, rotors, brake lines, master cylinder, brake fluid flush, and much more. To maintain We can ensure we use genuine OEM Ford parts to maintain consistency within your vehicle. 
Schedule a Brake Service Appointment Near Menifee
When your vehicle needs a brake replacement, repair, or inspection, schedule an appointment online with our service center. Our certified technicians will handle your Ford with precision, care, and attention as we do with all of our vehicles. 
When the time comes for your brake service, you are more than welcome to take advantage of our Ford service specials. Generate great savings while receiving a top-tier maintenance service. 
If you have any questions or like more information about our Ford routine maintenance and repair services, please feel free to contact us and we will be more than happy to help!