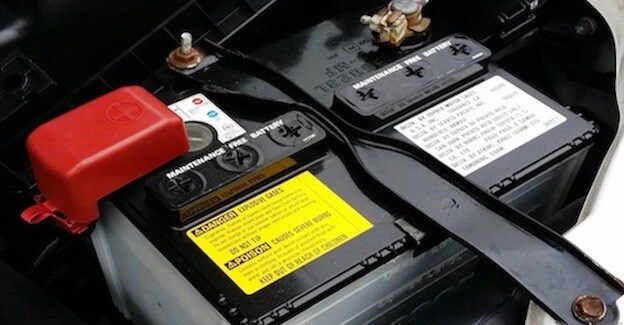 If you need a battery replacement for your Ford vehicle, then you've come to the right place. Let our Beaumont area Ford service and parts center assist you in picking out and installing a new car battery. Contact us to schedule a service appointment today!
Why Service At Gosch Ford Hemet?
A dead car battery can certainly put a damper on your day, but the team at our Ford dealer serving Beaumont is always here to help! From our competitively priced maintenance services to our exceptional waiting area with complimentary WiFi, lounge, and TV, there's no better place to go for quality care from Ford-certified technicians than Gosch Ford Hemet.
When Should Drivers Near Beaumont Get A New Car Battery?
Most car batteries last around four years but multiple factors can affect your car battery's life such as old age, extreme temperatures, and corrosion. Ensure you're never stuck trying to turn over your vehicle by taking note of symptoms that may indicate your battery needs attention. This can include signs such as dim headlights, flickering interior lights, uncommon or prolonged radio interference, or trouble starting up your vehicle. A dead battery can upset your day but by staying vigilant you can avoid the dreaded feeling of being left stranded somewhere.
Ford Service Customer Reviews
"As a Diesel shop owner and Master Tech Mechanic I'm always looking for Ford Parts and Francisco at the Hemet Gosch Ford Parts Department always gives me the best service. He's always working hard, making sure my parts get to my shop on time. Francisco is the guy to go when you need parts." - George A. (Google Reviews)
"I was so impressed with the service at Gosch Ford. Everyone was so friendly. I talked with Pheobe at the front desk and she was so sweet. I was having a hard day and she made it so much better. I left with a smile! Thank you so much for caring for your customers." - Heather V. (Google Reviews)
Owner Resources
Battery problems can be frustrating, but Gosch Ford Hemet is always here to help you with expert battery diagnostics, repairs, and replacements.

If you're experiencing battery troubles or are simply worried about the condition of your battery, feel free to contact us today to schedule a service appointment.